MEDIA MANIPULATION ESTRATEGIES
In 2012, I was working on an illustrated series about Media Manipulation Strategies which were circulating online under the name of Noam Chomsky. Once finished, Mr. Chomsky came back to me to advise on the authorship of this piece, as he was not the original author, but Sylvain Timsit. Eventually, Sylvain Timsit confirmed about it by e-mail. Since then, this work receives more than 25,000 visits annually by internet. Perhaps, this publication could be extended in the future, throughout different languages, or physical formats ​​such as paper. At the moment, the publication is just on-line available.
En el año 2012 realicé una serie ilustrada de las Estrategias de Manipulación Mediática que circulaban por internet bajo la firma de Noam Chomsky. Una vez finalizada dicha serie, el propio Chomsky me advirtió de que el no es el autor, sino que se trata de Sylvain Timsit, por correo electrónico Timsit me lo confirmó. Desde entonces, este trabajo recibe anualmente más de 25.000 visitas anuales en internet. Tal vez en el futuro sea posible la publicación en diferentes idiomas y/o incluso en papel, hasta entonces sigue navegando por las redes.
CUENTOS CHINOS DE LA ECONOMÍA («Fake stories about economy»), with econoPlastas
This project went live by «econoPlastas» organisation throughout a fundraising campaign, and other specialized works from writers, designers and illustrators for several months. My own contribution to this book came through my own drawings, collages and other artistic doodles in conjuction with Iribú, Ana Ongil and Alex Maulovich. The paper edition was sold out and a second revised release will be outperformed in the near future, as an extension of the previous essay, focusing on other potential economic alternatives, which we are still working on.
Este proyecto del colectivo econoPlastas fue posible tras una campaña de financiación colectiva y varios meses de trabajo de escritores, maquetadores e ilustradores. Yo por mi parte colaboré con mis dibujos, collages y monigotes junto a Iribú, Ana Ongil y Alex Maulovich. La edición en papel se agotó y en un futuro próximo (?) se publicará una segunda edición revisada y el libro continuación del anterior, centrado en alternativas económicas posibles, sobre el que ya estamos trabajando.
BOOK COVER «JE SUISE CHARLIE»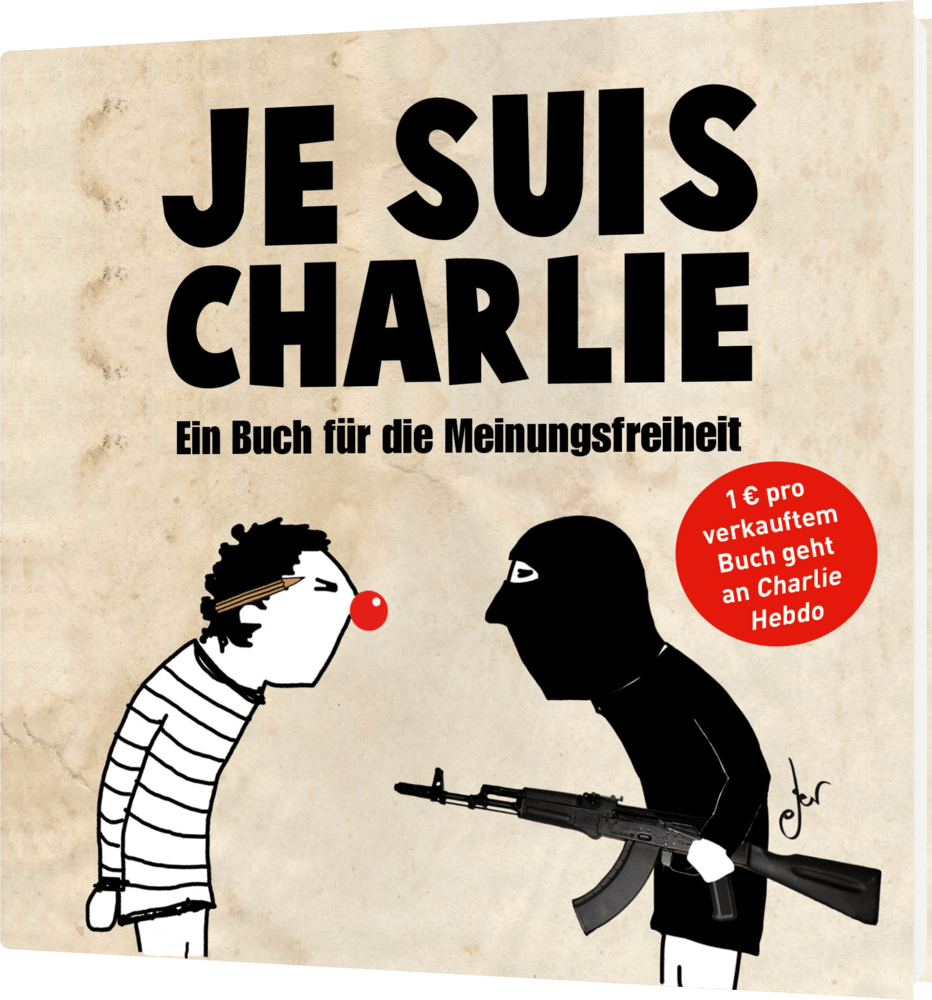 My illustration of Charlie Hebdo is the frontpage of the book Je suis Chalie published by the publisher "Münchner Verlagsgruppe/RIVA -Verlag", and available in bookstores in Switzerland, Austria and Germany since January. For every book sold € 1 will go to the French magazine.
On Line sales: https://www.m-vg.de/riva/shop/article/3612-je-suis-charlie/
Many media have referred to the news:
Mi ilustración sobre Charlie Hebdo es la portada del libro Je suis Chalie que publica la editorial "Münchner Verlagsgruppe/RIVA-Verlag", y disponible en las librerías de Suiza, Austria y Alemania desde enero. De cada libro vendido 1€ irá destinado a la revista francesa.
Venta OnLine: https://www.m-vg.de/riva/shop/article/3612-je-suis-charlie/
Muchos medios han hecho referencia a la noticia:

Esta obra está bajo una Licencia Creative Commons Atribución-NoComercial-CompartirIgual 4.0 Internacional.